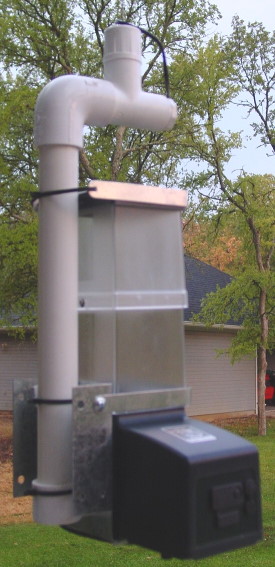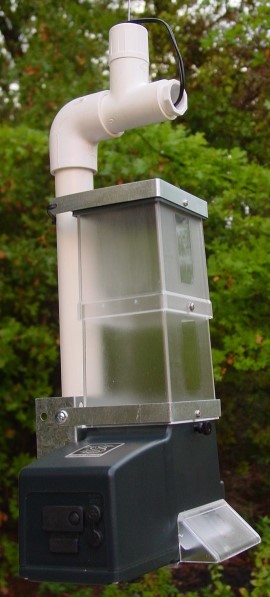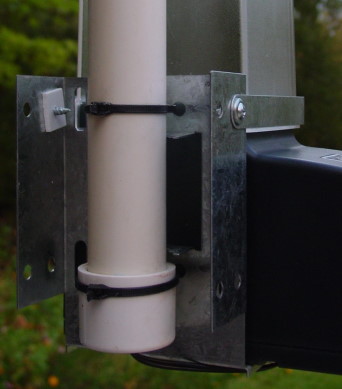 FEEDERS ONLY COME WITH THE MOUNTING BRACKET AND STRAPS. OTHER MOUNTING ITEMS LIKE PIPES, ETC...ARE NOT INCLUDED, BUT COULD BE PURCHASED AT LOCAL LUMBER/HARDWARE STORES.
Perhaps the best animal-proof set-up...The hang-mount above was made out of 1" PVC pipe. It can be constructed with smaller or larger pipe anywhere from 1/2" to 2" PVC. You can slightly rotate the main 90 degree elbow side to side to find the center of gravity so the feeder will hang nice and straight. The basic list of materials for the above mount is as follows:
1 ea. 13" section of 1" pipe (for only two extensions, longer if more)
1 ea. small piece of 3/4" pipe (nipple) for fitting top hanging 3/4" cap
1 ea. 3/4" cap (you will drill a hole in it for hanging wire)
1 ea. 1" cap
1 ea. 3/4" tee
1 ea. 3/4" to 1/2" or smaller reducer fitting for end of tee hook-up wire inlet (or drill hole in 2"cap)
PVC cement
Minimum of 2 cable ties, or 3 if you purchased extra metal strap for top extension at cap (note: Extra strap shown at the top of feeder does not come with feeder package, only bottom one.)
DO NOT USE A STRING/ROPE TO HANG FEEDER, ANIMALS MAY BITE INTO IT, CAUSING THE FEEDER TO DROP INTO YOUR POND! USE A PIECE OF CABLE OR STAINLESS STEEL WIRE.
|CLICK THIS LINK FOR FITTING BRACKET TO PIPE|
How to make a different mounting bracket
|HOME|
SUPER FEED & SUPER FEEDER are registered trademarks owned and licensed by Super-Feed Enterprise.