Store: https://www.superfeederstore.com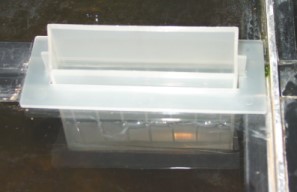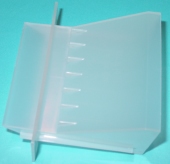 The funnel above is the new ASF-1 Aquarium Super Feeder® "Moisture Trap™" funnel which is made of durable and slick non-stick polypropylene plastic. It is 3 3/4" long x 2" wide at bottom and 5/8" wide at the neck. It will fit between two glass panels by removing some hinge material, or a slot in rear plastic strip can be made (common on many aquariums).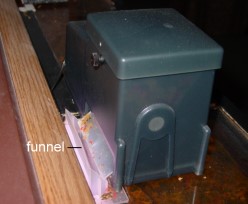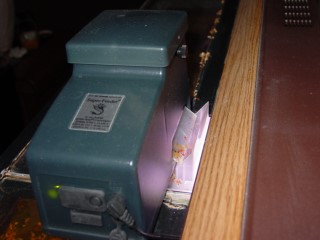 ASF-1 INSTALLATION IN FRONT OF LIGHT FIXTURE AND WITH FUNNEL BETWEEN GLASS COVER PANELS (SMALL PIECE OF HINGE HAS BEEN REMOVED). THE SHAKING SLIDE AT THE CHUTE OPENING EXPELS THE FLAKES INTO THE FUNNEL NECK, WHICH KEEPS THE FLAKES FROM SPILLING AROUND THE COVER.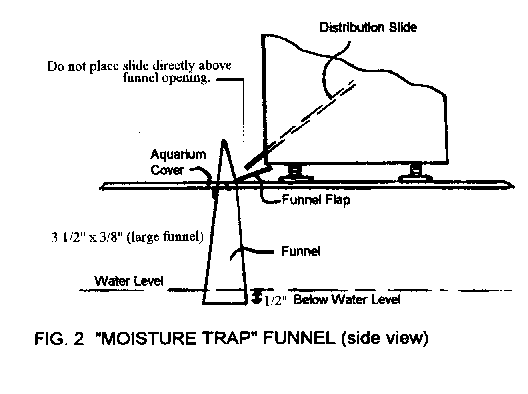 Depending on your aquarium installation (low moisture generation) and whether you are using flake food or not, you may not need the moisture trap funnel, We only supply it for successful flake distribution in moisture environments. If you decide to experiment feeding without the funnel, place the feeder at the side of a suitable aquarium opening (the smaller the opening the better) so that the outer edge of the feeder's chute outlet is about 1/4" from the edge of that opening. Many of our tests were successful, however, in order to guarantee our product, we still very strongly recommend the use of the "moisture trap" funnel, if at all possible, when dispensing flakes (pellets are no problem).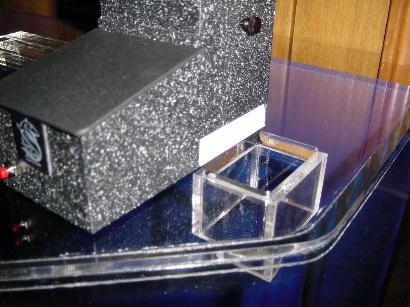 Customer had acrylic aquarium modified to "include" built-in funnel system which goes into the water. Length of chute is 3 1/4". (custom-built Model 4 Big Bertha shown, no longer produced) Click on picture and see a different feeder installed and operating on a large tank.
Installation on large tank Example: https://youtu.be/U3BLblVSaWw
|SEE WHERE TO PUT IT ON AN AQUARIUM COVER|
|MORE INFO ABOUT THE "MOISTURE TRAP™" FUNNEL|
How do feeders work? | Price List |
Home | Contact and order info | Aquarium Models |
| Outdoor Models |
|SEE ONLINE STORE TO PURCHASE A FEEDER|
Copyright © Super-Feed Enterprise. All rights reserved.
Revised: December 15, 2021.